This page provides links to over 100 phrenological images, from portraits of important phrenologists to plaster casts of their heads taken for phrenological study. Click on each image to view an enlargement. New images are periodically added.
The first phrenological images were engravings of particular skulls with the organs marked on them. Then in 1815 life-like busts appeared- but these were representations of an abstract head and not of a particular specimen. Later more extravagant busts with pictures and different colours were made.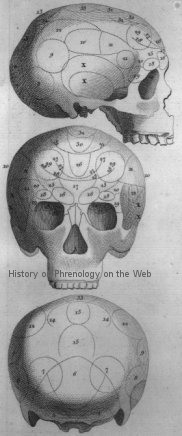 Engraving from the Philosophical Magazine, 1802. This engraving later appeared, transposed, on the title page of The Weekly Medico-Chirurgical & Philosophical Magazine for Feb.1823. See Cooter, 1984, p.30.
These two skull engravings are from a German pamphlet. Martins, 1803. 35 organs are delineated.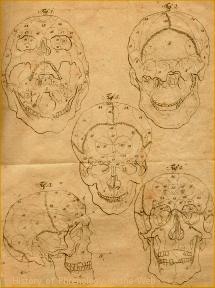 German engraving from Arnold, 1805.

German engraving of skull according to Gall from Blöde, 1806.


Frontispiece to Spurzheim's The Physiognomical System of Drs. Gall and Spurzheim. London, 1815. The first published use of a head instead of a skull.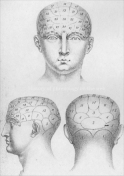 Frontispiece to Spurzheim's Outlines of phrenology. London, 1827.

Engraving from Francois-Joseph-Victor Broussais, Cours de Phrénologie. 1836.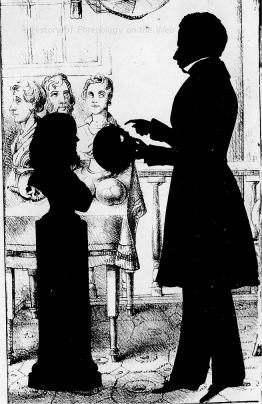 Combe, Lectures on phrenology. 1839.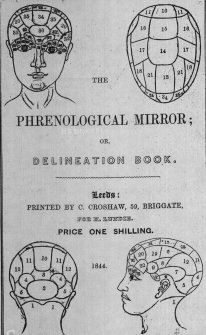 Titlepage of H. Lundie's Phrenological Mirror. 1844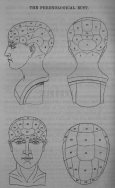 Frontispiece to George Combe's System of Phrenology, 1853 edn.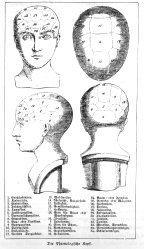 From Gustav Scheve's Phrenologische Bilder. Leipzig, 1855.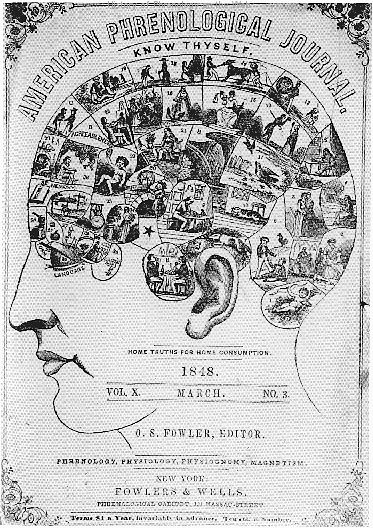 Cover of the American Phrenological Journal, 1848 (from Stern, Heads & Headlines, 1971).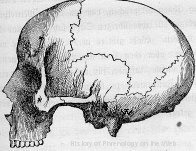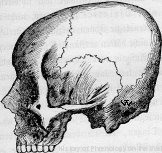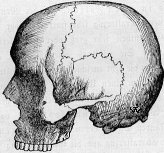 The organ of Philoprogenitiveness (2. parenting) From Scheve, phrenologische Reisebilder, 1863.
Reproductions of this bust c. 1865 by L.N. Fowler, are sold as souvenirs today.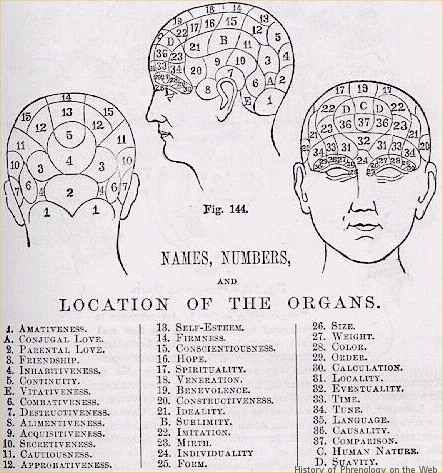 Diagram from W. Mattieu Williams, A Vindication of Phrenology. London, 1894.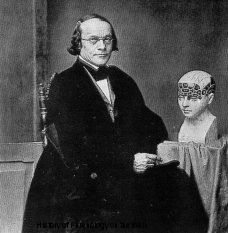 Gustav Scheve- the foremost German phrenologist. Note the bust with different groups of faculties coloured.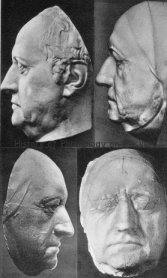 The (only) life bust of Goethe made at Gall's behest. Photos from: Möbius, 'Franz Joseph Gall', in Ausgewählte Werke, 1905
Additional images at this site are found on the following pages:
-Franz Joseph Gall.
-Johann Gaspar Spurzheim.
-The Combe brothers.
-Engravings of the brain from Spurzheim's Anatomy of the brain, 1826.
-Spurzheim, Phrenology: or the doctrine of the mental phenomena. Philadelphia, 1908.
-Combe, A system of phrenology. 2 vols.
-Combe, Constitution of man, Chapter V.
-Lundie, The phrenological mirror or delineation book.
-What was phrenology?.
-Vestiges of the Natural History of Creation.
-The four Temperaments.
-Ridiculing Phrenology.
-Carpenter, Principles of mental physiology, 1874, Appendix.
-Map of Gall's European lecture tour 1805-7.
The next page is : Chronology of phrenology.